Looking for a newspaper or magazine WordPress theme? StudioPress eleven40 Pro is a beautifully designed theme for a personal blog, newspaper, or magazine powered by the Genesis Framework. In this eleven40 Pro review, we'll show its features and help you decide if it is the right theme for your needs.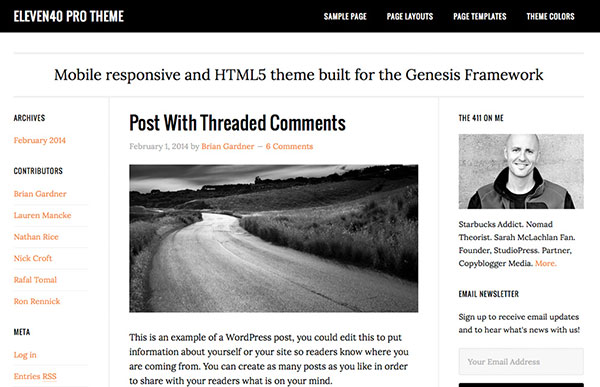 About eleven40 Pro
eleven40 Pro is a theme by StudioPress, widely known as one of the best WordPress themes sellers. Their themes come with the Genesis Framework which is powerful, fast, and easy to set up. StudioPress eleven40 Pro is your theme if you own a magazine, run a newspaper, or are planning to create a personal blog with a lot of content.
Features of eleven40 Pro
The eleven40 Pro theme supports multiple widget areas, customized options, two and three column layouts, user profile widget, long footer, four color schemes and more.
There are multiple layout options on one-click selection to completely change the structure of your blog or website as you need. Genesis theme settings also covers content archives and blog page template options.
Let's take a detailed look into the features of StudioPress eleven40 Pro:
Content Archives
A magazine theme is not complete without content archives. Long archives that display greatly on your website look professional for an online newspaper or magazine. It will help your readers to find the content from previous months or years.
The content archives display setting is a part of the eleven40 Pro theme. You can manage this option from the Genesis theme settings.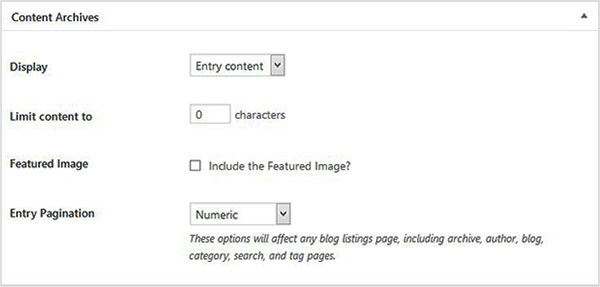 These settings are quite similar to the post settings where you can define the content display, characters limit, featured image option, and pagination in case of long archives.
Layouts
StudioPress eleven40 Pro has 6 different layouts to create a magazine or newspaper website. The layouts covered a maximum of 2 sidebars and fullwidth options.

It allows you to create your website with one sidebar, two sidebars, or without sidebars. However, the sidebars can be shifted to any side or both sides of the screen.
You can fill up the content in the sidebars using the widget areas.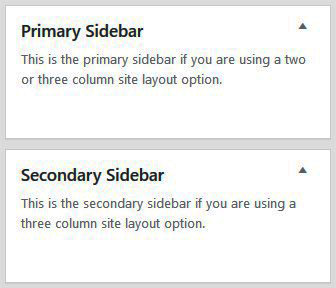 In case, if you are using a two column layout, then the primary sidebar widget area will display the widgets either on the left or right side of the screen according to your layout.
However, if your layout has three columns, then there are multiple options. You can display sidebars on both sides, left sides and right sides according to your layout settings.
Menus
The theme has two menu locations. The primary menu location that appears in the header of the site. However, the secondary menu appears at the footer.

You can display the same menu on both locations or create separate menus for primary and secondary locations.
Sticky Header
The theme has a default sticky header that carries your logo and menu. It will be your primary menu that helps the users in easy navigation to any part of the blog.
Sticky header moves with your website scroll till the bottom of the screen.
Customization Panel
The customization panel of the theme has covered all settings in one section. From the site identity to header background, color schemes, breadcrumbs and more.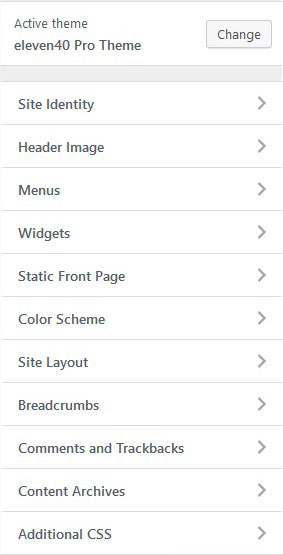 A few of the important settings that you can manage with the customization panel are mentioned below:
Header Image: Theme recommended header image size is given in the settings, and you can easily crop the image after uploading it.
Color Schemes: The color schemes of the eleven40 Pro theme changes the color of the links and a few tabs. There are 4 color options available in this theme.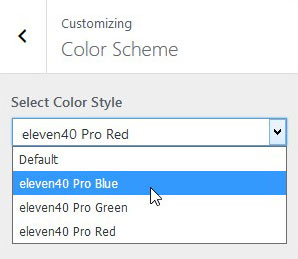 With the customization panel, it is easy to shift the color scheme. You can change these settings anytime to match your work style. However, the header color will remain the same.
Comments and Trackbacks: This setting allows you to enable or disable comments and trackbacks on the posts and pages with one-click.
Mobile Responsive
StudioPress eleven40 Pro is a fully responsive WordPress theme for magazines and newspapers. The content adjusts itself automatically according to the screen size of your device.
This theme is browser compatible and works great with all online browsers.
Documentation and Support
With eleven40 Pro you get access to detailed, step-by-step tutorials on how to set up the theme for your site just like the demo.
StudioPress eleven40 Pro is available for a one-time purchase fee which allows you to use the theme on an unlimited number of sites. You also get access to unlimited email support. StudioPress is known for the quality and speed of their user support.
If you're a fan of the Genesis framework, you can save a lot of money by investing in StudioPress ProPlus. With a one-time fee, you get access to all StudioPress themes, plus lifetime updates and support. You'll also get automatic access to any new themes they release in the future.
Our Score
StudioPress eleven40 Pro is a WordPress theme for magazines, newspapers and personal blog. The layout is neat, use solid colors, and .
Also, we found the theme to be easy to use with just enough customization options. It is built on the Genesis framework, which is fast, lightweight, and well-coded. Plus, it includes excellent unlimited support and lifetime updates for just a one-time fee.
We give StudioPress eleven40 Pro 5 out of 5 stars. Here is the breakdown of our review scores:
Get eleven40 Pro Now »