Explorable is a location-based WordPress theme that allows you to create listings on a map. It also allows your visitors to rate your listings on a map. In this Elegant Themes Explorable review, we'll show you why it is a great tool for building travel blogs, local business directories and more.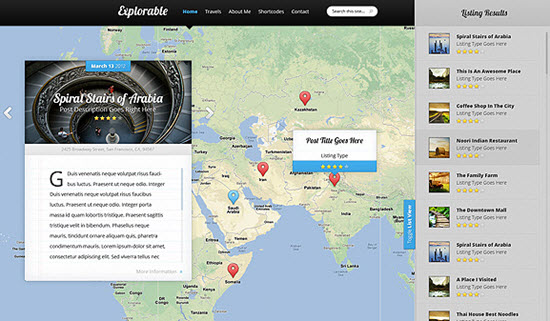 About Explorable
Explorable is a location-based WordPress theme that is best suited for building travel blogs, local business directories, travel guides and more. With the Google Maps API, each listing is assigned a physical location on the world map, and users can assign a rating to each location.
Explorable is released by Elegant Themes, your one-stop hub for premium WordPress themes and plugins.
With Explorable, the possibilities to build a location-based website are endless. Let's take a look at a few features of the Explorable theme.
Listings Post Type and Filterable Search
The Explorable theme is shipped with a custom post type, Listings. The Listings post type allows you to easily add a new listing within your WordPress dashboard. In ET Settings, which you can see below the text editor of every Listings post, you can add listing's Address, Description, Rating, and Location.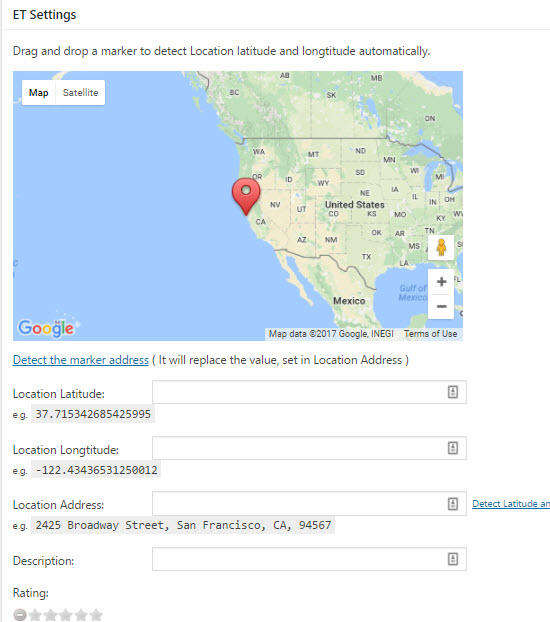 In the Listings post type, each location can be categorized as Types or Tags. They allow users to easily filter the location listings on the homepage.
Types: They allow you to separate listing posts into location groups on the map.
Tags: They allow you to categorize your listing posts using types such as "Vacation Spot, Tourist Attraction, Historical Monument, etc.
You can find the filtering option in a floating bar that sticks to the bottom of your visitors' screen on the homepage. Your visitors can filter the listings based on types, tags and user ratings.

User Rating System
User rating system is one of the unique features of Explorable. It allows users to submit ratings as a comment for every listing post. In ET Settings, authors can also assign a rating to each location when the listing post is written.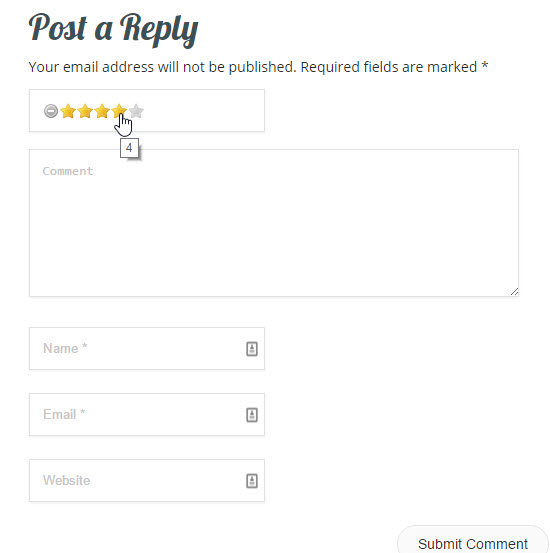 Tons of Page Templates
Explorable comes with lots of template options. Every page template is bundled with several pre-built styles and functions. Selecting a template will automatically give you a corresponding option in ET Page Template Settings.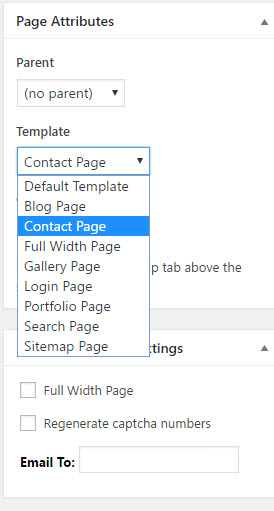 Blog Page: It allows you an option to enable Blog Style mode and show or hide Auto Thumbnail. You can even select the category and specify the number of posts you'd like to display per page.
Contact Page: In this page template, Explorable allows you to create a simple contact form without installing any contact form plugin. Once this template is chosen, you can specify the email address to where the form submissions should be sent.
Fullwidth Page: Choosing this template won't give you any settings in ET Page Template Settings. It just hides the sidebar of your page.
Gallery Page: You can select the gallery categories in this template. It also asks you whether you need to disable sidebar for the page.
Portfolio Page: Portfolio template allows you to choose the thumbnail size- small, medium or large.
Login, Search and Sitemap Pages: While you can customize the content of the pages that use any of these templates, no custom option is provided in ET Page Template Settings when they are chosen.
Custom Header Background Image
In every page, regardless of the template, you'll find ET Settings that allows you to upload custom header background image. You can either specify the header URL or upload the image directly.

Easy Google Maps Integration and Location Listings
In order to integrate Google Maps on your homepage so that users can easily add location listings, you'll have to create an API key using the free Google Developer Console account.
In Explorable Theme Options, you can choose a map type, zoom level for your homepage and default maps. The available map types are roadmap, terrain, satellite, and hybrid.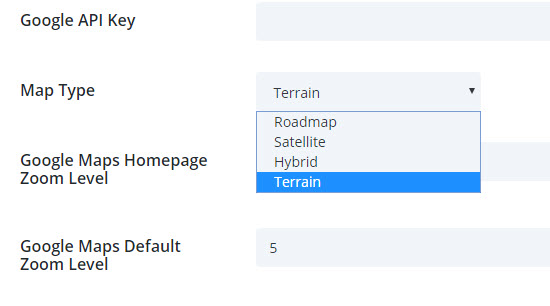 Documentation and Support
The Explorable theme has an extensive documentation that guides you on installing and configuring the theme. With beautiful screenshots and videos, it gives you a detailed explanation of various features of the Explorable theme.
To download the Explorable theme, you'll need to join the Elegant Themes club. Their personal plan starts from $69 per year. After joining, you'll get complete access to all themes. For lifetime access, you'll need to make a one-time fee of $249.
To get premium support, you can use the Elegant Themes support forums. Elegant Themes are well-known for the quality and speed of their support.
Our Score
Elegant Themes Explorable is one of the best themes available in the market that allows you to easily create location-based listings. With its beautifully integrated map and the filtering option on the homepage, users can easily discover the right location for their needs.
If you're looking to build any kind of location-based website, Explorable could be the best choice.
We give Explorable 5 out of 5 stars. Here's the breakdown of our scores.
Get Explorable Now »
If you liked this article, then please consider following us on Twitter and Facebook. If you have any questions, please let us know by leaving a comment below.