Atmosphere Pro is a responsive Genesis child theme that comes with a minimalistic design. The theme is a good fit for any website that needs a customized homepage. In this StudioPress Atmosphere Pro review, we'll show you its features and whether it is the best theme for your site.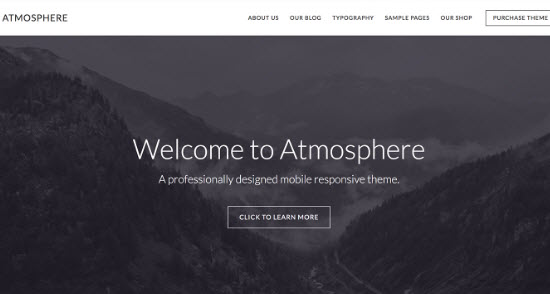 About Atmosphere Pro
Atmosphere Pro is a child theme of Genesis framework by StudioPress, so you'll need to have Genesis Framework and StudioPress Atmosphere Pro installed on your website.
A child theme inherits all the features from its parent theme. Using a child theme on your site helps you to make tweaks on it without worrying about losing them after updating the parent theme.  You can read more about why you need a child theme.
Using the Genesis framework as your parent theme offers a lot of benefits. It comes with the basic theme and SEO settings every website needs. In Genesis, you'll find all the essential features without any bloat.
Features of StudioPress Atmosphere Pro
StudioPress Atmosphere Pro is not a niche-oriented WordPress theme, so you can create any sort of website with it. It doesn't support any sidebar and it provides easy reading experience for your visitors.
The theme is mobile responsive, so your content will be optimized for every browser, device and screen size.
Let's take a look at some of the features of StudioPress Atmosphere Pro.
Use Theme Customizer and Widget Areas
Installing Atmosphere Pro theme on your site doesn't create any additional theme settings option in the left panel of your WordPress dashboard. All the child theme customizations have to be done using widgets and theme customizer.
Build a Customized Homepage
Atmosphere Pro comes with 4 widget homepage areas. You can customize the look of your homepage by simply dragging and dropping the right widgets to the right widget area.
You can choose your own background image for the front page by navigating to Appearance » Customize » Front Page Image.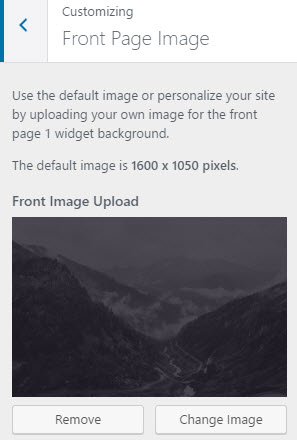 Make sure to keep the background image size to 1600 x 1050 pixels.
Landing Page Template
The theme comes with a landing page template that doesn't support the header, navigation menu or footer like the rest of your site. Using this template, you can easily build a customized landing page that is optimized for boosting conversions.
Other Cool Features
With Atmosphere Pro, the opportunities to create a stunning WordPress website are endless. Below are a few more features that you may find useful.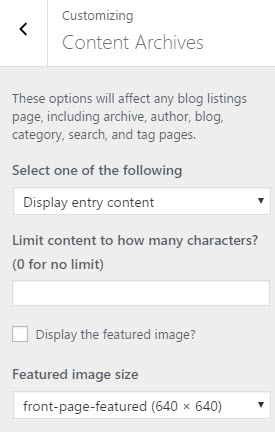 WooCommerce support: Atmosphere Pro is pre-styled for WooCommerce, so you can easily set up your online store and running. You don't necessarily need to make tweaks on your product and checkout pages when you're rolling out an ecommerce store.
Customize Content Archives: You can customize the content archives by navigating to Appearance » Customize » Content Archives. Here you can set the featured image size, featured image alignment and entry pagination type. These options will affect the templates with blog listings such as archive, author, blog, tags, etc.
After content widget area: You can add a prominent call to action in the after content widget area. This widget area appears just below the entry post.
Customizable header: You can upload your own logo or enter the title of your site. Either way, it perfectly fits in the header.
Documentation and Support
The Atmosphere Pro theme is well-documented so whenever you get stuck you can easily find a solution from their tutorials. You can also access the complete list of code snippets to use in the Genesis child theme that helps you to extend the functionality of your site.
Unlike other premium themes, StudioPress doesn't limit you to use the theme on a limited number of sites. Once you purchased Atmosphere Pro, you'll get unlimited updates, support and can use it on unlimited sites.
One-time purchase fee for Atmosphere Pro with the Genesis framework is $99.95.
You can send your support queries via email. StudioPress is known for the quality and speed of their user support.
Save Money on Themes With StudioPress Pro Plus
If you're a designer or a developer who would like to get access to the entire Genesis child themes released by StudioPress, Pro Plus Membership is the best bet for you.
With Pro Plus Membership, you can save over $1200. You can download their existing as well as future themes with no extra cost. Best of all, you'll get lifetime updates and support.
The membership will cost you a one-time fee of $499.95.
See more details and check out all the themes over at StudioPress.
Our Score
StudioPress Atmosphere Pro is a full-width WordPress theme that is focused on providing easy reading experience for your visitors. It doesn't support the primary sidebar widget area and is geared towards giving your content the full attention it deserves.
Atmosphere Pro is the best choice for you if you're looking for a minimalist WordPress theme.
We give Atmosphere Pro 4.8 out of 5 stars. Here's the breakdown of our scores.
Get Atmosphere Pro Now »