Want to make your blog look more professional with pagination? Replace those "Older posts" and "Newer posts" links with numbers instead, helping your readers to navigate your blog more easily. See how you can improve your blog navigation in our WP-PageNavi review.

Why Numerical Pagination Beats Links
If you've been blogging for any length of time, you can't fit all your posts on one page!
Instead, WordPress uses pagination to split up your posts on separate pages. To navigate through those blog posts in order, a reader has to click through pages using pagination links.
By default, WordPress displays "Previous Page — Next Page" links to guide your readers through your pages.
Today, many WordPress themes allow you to use numerical pagination instead, where each page is numbered. It looks something like this:

Numerical pagination is better than those old Previous/Next links, for three big reasons:
1. Better navigation
First, Previous/Next pagination can be confusing for readers. It's hard to decipher which one means older posts or newer posts. Which one should you click?
Numbered pages are much easier to navigate, since they make it clear exactly where you are and where you're going.
2. Improved SEO
The second reason is SEO. Numbered pagination can be better for the SEO of your site, because it affects crawl depth. If search engine crawlers search your site and you have Previous/Next links, they'll have to follow many links to find all your posts.
On the other hand, if you have numerical pagination like in the image above, the crawlers will be able to more easily index all your blog posts. That's because it's easier to reach them in just a few clicks from your homepage.
3. It looks good!
The third reason is… Let's face it, the old Previous/Next links just look old-fashioned!
Numerical pagination looks much more professional and modern.
Do You Need WP-PageNavi?
Many modern WordPress themes include numerical pagination by default, or at least allow you the option to switch to numerical pagination.
But if you're using an older theme, or one that doesn't offer that option, you need another way to make the switch.
If you're not a developer, it can be tricky to know how to do this manually. It involves some long PHP functions and may require you to customize the code or perform some troubleshooting if it messes up your site.
That's when WP-PageNavi comes in handy.
It's a simple plugin that allows you to make the switch to numerical pagination, without writing any code.
How to Set Up Your WP-PageNavi Pagination
The WP-PageNavi plugin requires a few more steps than just installation and activation. You'll have to actually make some minor modifications to your theme files.
Warning: Before modifying any of your theme files, be sure to create a backup. See Which WordPress Files Should You Backup? And the Right Way to do it for instructions. You can also temporarily save a separate backup of any theme file you modify, for quick and easy restoration in case something goes wrong.
To start, install and activate the plugin. Then navigate to Settings » PageNavi.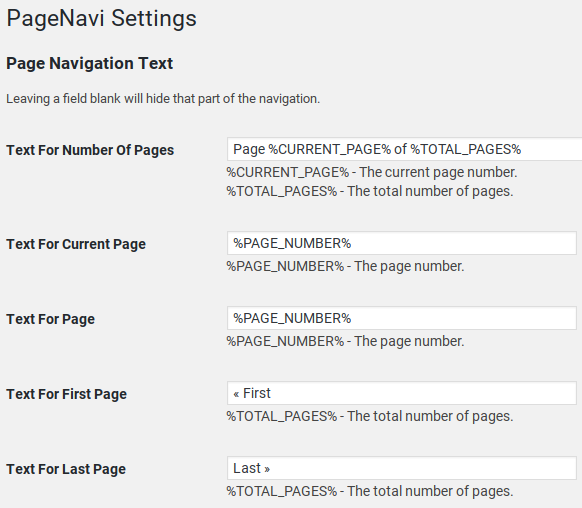 Here you can decide exactly what text to display.
Scroll down and you can customize other navigation options, such as the number of pages to show. You can even have a dropdown list of pages instead of the normal display.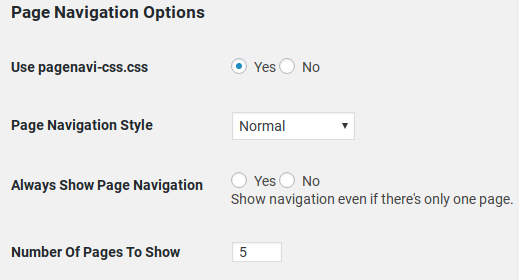 Once you've selected all your options, click the Save Changes button at the bottom.
Now, you'll have to make some modifications to your theme files.
In your theme, you need to find calls to next_posts_link() and previous_posts_link() and replace them with wp_pagenavi(). Usually this will be in the index.php file in your theme folder.
If you're not sure where to look or how to edit your theme files, check out this Beginner's Guide to WordPress File and Directory Structure.
Other Options For Pagination
WP-PageNavi isn't the easiest plugin to use if you've never modified a theme file before.
Instead of making changes to your theme code, you could switch to a more modern theme that supports numerical pagination. For example, see our Twenty Fifteen theme review.
You could also try adding pagination manually. You can find complete instructions on how to do that here: How to Add Numeric Pagination in Your WordPress Theme.
Our Verdict
Numeric pagination is better by far for you, your SEO, and your visitors.
But if you're stuck with an old-fashioned theme that doesn't support it, it can be tricky to implement.
WP-PageNavi is one option for getting numeric pagination. Depending on how your current theme is coded, it can be quick to install and configure. It's one of the most popular plugins in the WordPress.org directory, and is very highly rated. The developers also offer active support in the forums.
But if you're not used to dealing with code and making changes to your theme files, it can be tricky and might even cause errors on your site.
Considering using WP-PageNavi?
We give WP-PageNavi 4 out of 5 stars. Here is the breakdown of our review scores:
Get WP-PageNavi Now »