Need to add images to your sidebar, footer, or other widget areas? WordPress won't let you do that out of the box, so you'll need a plugin like Image Widget. In our Image Widget review, find out if the plugin has the features you need, and how you can use it to display images on your site.

Why You Need an Image Widget Plugin
You'd think that displaying an image from your media library in your sidebar or footer would be a built-in function of WordPress — but it's not!
Out of the box, you're limited to using the Text widget and writing your own HTML code to insert images. But if you're not a coder, there's no easy way to do it.
That's why an image widget plugin is necessary for most WordPress sites.
According to entrepreneur and marketer Jeff Bullas, articles with images get 94% more views than those without. Images are attention-grabbing, helping to convey important information and keep visitors engaged on your site.
An image widget plugin will allow you to quickly and easily set up widgets to display your professional headshot on your personal site, manually set up banner ads, create eye-catching links and calls to action, share testimonials and portfolios pieces, and more — your creativity is the only limit.
How to Set Up Your First Image Widget
To get started with adding images to your widget areas, install and activate the Image Widget plugin.
Navigate to Appearance » Widgets, where you'll see the new widget available.

Click the widget and select the widget area where you'd like to place it, or drag and drop the widget onto the widget area on the right side of the screen.
Click the Select an Image button.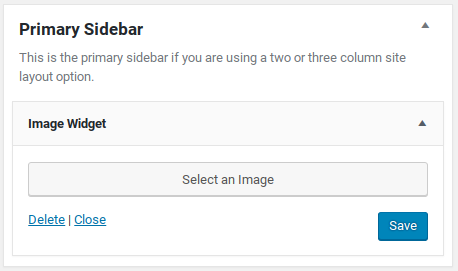 This brings up the default WordPress media library window, just like adding an image to a post or page. You can select an image from your media library, or upload a new one, and click the Insert Into Widget button.
Once your image is inserted, you can fill out the options below.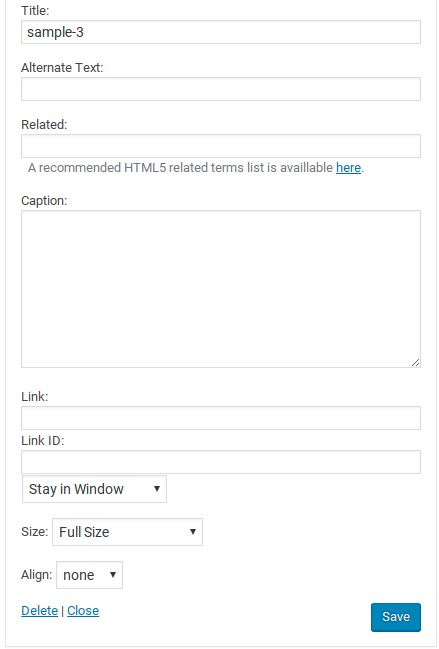 The available options are:
Title: This is the widget title that will be displayed above your image.
Alternate text: Alt text is displayed when a user mouses over the image, and also read aloud by screen readers for visually impaired users. It should be used to describe the content of the image.
Related: This is the "rel" attribute of the link. You can find a list of values to use by clicking on the link below the field.
Caption: Write your image caption here. Images captions are often the most read text on the page, so be sure to use your captions to pique your readers' interest.
Link: Add a URL here if you'd like add a link to your image. If not, just leave blank.
Link ID: Add an ID to your link. You can use your ID to link to that spot on the page, or customize the CSS of the link. IDs should be unique — don't use the same ID for more than one element on the page.
Stay in Window / Open New Window: Choose whether the link should open in the same window or not.
Size: Choose one of the sizes set up in your theme, or enter a custom size for your image. If you select "full size," the image will fit your sidebar width automatically, matching your responsive theme.
Align: Select the alignment of your image. The alignment doesn't apply to your title or caption, just the image.
Most options are optional and can be left blank.
Once you've selected your settings, click the Save button and your image will go live.
Documentation and Support
The Image Widget plugin is limited in features so it doesn't require very much documentation. Instructions for installation are available on the WordPress.org page, and the important fields are self-explanatory.
However, more documentation and explanations would be useful for beginners, such as explanations of the "Related" and "Link ID" fields.
If you get stuck or need help troubleshooting an issue, you can post in the WordPress.org support forums. However, the forums for the Image Widget plugin are not very active, with most threads going unresolved.
Image Widget vs. Jetpack Image Widget Module
Automattic's Jetpack plugin has a module available called Extra Sidebar Widgets. This includes an image widget, as well as widgets to display:
Latest tweets
Facebook like box
Google+ badge
Gravatar profile
Image gallery
Ten most recent WordPress posts (from your blog, or another)
Social media icons
Contact info
Goodreads shelf
If you have Jetpack installed and activated, you can activate the Extra Sidebar Widget module by navigating to Jetpack » Settings and click on the Configure link next to the widget name.

The Jetpack image widget doesn't allow you to select an image from your media library or upload an image from the widget. Instead, you have to enter the URL, which you can get by looking up the image in your media gallery.
Other than that, Jetpack offers basically the same options as the Image Widget plugin. They also have links to explanations of each field, which Image Widget doesn't have.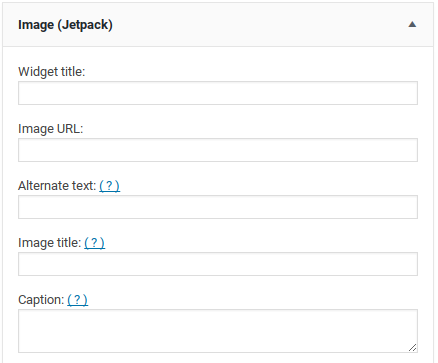 But activating the Jetpack plugin and the Extra Sidebar Widget module also activates a lot of other features and functions which you may or may not need.
If all you need is an image widget, and won't use other Jetpack features, we recommend using the Image Widget plugin.
But if you will use other Jetpack modules or other sidebar widgets, you may not want to install an extra plugin just for image widgets, since it's already included in Jetpack.
Our Verdict
As a single-purpose plugin, Image Widget gets the job done. If you need a quick and easy way to add and configure images in your widget areas, this is the plugin for you.
Beginners might have a little trouble understanding and configuring the advanced options, since documentation and support are lacking.
But if you just want a simple image displayed without getting into the technical details of link settings, or if you have experience with HTML and just want a faster way to configure your sidebar images, the plugin can be quick and easy to use.
We give Image Widget 3 out of 5 stars. Here is the breakdown of our review scores:
Get Image Widget Now »