Need a simple contact form plugin for your WordPress site? Fast Secure Contact Form is a free plugin that's popular and highly rated on WordPress.org — but is it the right form plugin for you? Find out all its pros and cons in our Fast Secure Contact Form review.

Why You Need a Form Plugin for WordPress
Nearly every website has some kind of form, whether a simple contact form, quote request form, or even surveys or blog post submission forms.
Using a contact form instead of displaying your email address looks more professional, makes contacting you easier for visitors, and protects you from spam.
But when you build your site using WordPress, there's no way to create forms out of the box.
That's why you need a WordPress form plugin.
There are plenty of form plugins available, both free and premium. Some are easy to use with a friendly user interface, while others might leave you scratching your head trying to figure them out.
Fast Secure Contact Form is among the more popular free form plugins available from the WordPress.org directory. Developed by Mike Challis, it has over 400,000 active installs on WordPress sites around the web, and is rated almost 5 stars.
How to Create a Simple Contact Form
After installing and activating the plugin, you can navigate to Plugins » FS Contact Form to get started.
At the top of the page, you can select a form to edit from the dropdown menu, or select Add new form to make a new one.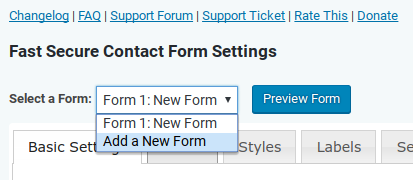 By default, the plugin has already created a form for you, named "Form 1."
The default contact form has the following fields, all required:
Name
Email
Subject
Message
In this tutorial, we'll edit the default Form 1, instead of creating a new one.
(Form 1 can't be deleted, but you can delete any other form you created by clicking on the Tools tab and scrolling down to the bottom, where there's a delete button.)
Under the Basic Settings tab, you can edit the form name (using the Form 1 label field), and add any text you'd like to display before the form itself.
You can also see the form's shortcode, which you can use to embed the form on any post or page.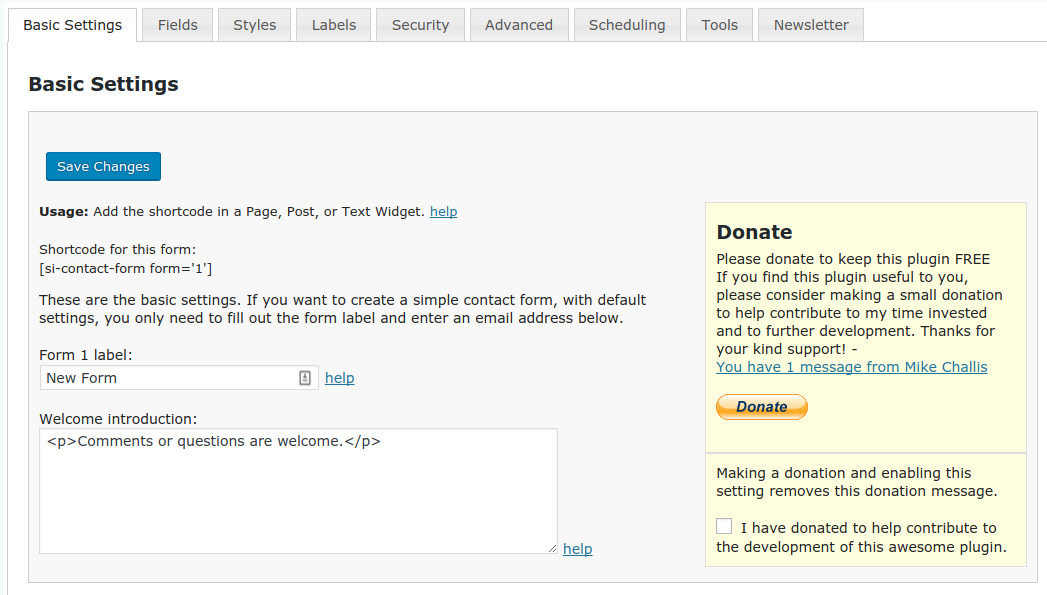 Below that are the Email Settings. In the Email to: field, you can enter any email addresses you'd like the form entries to be sent to.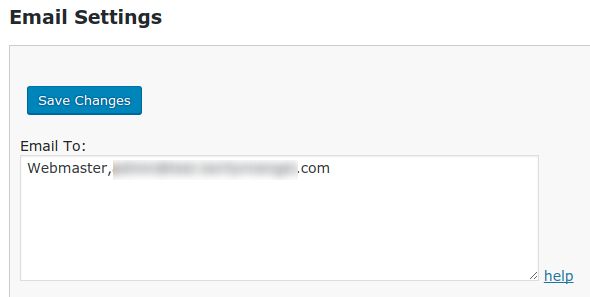 If you enter multiple email address, it will create a dropdown field in the form so that the user can choose who the form gets sent to.
If you just want to send the form entries to multiple emails without creating a dropdown, you can enter them in the Email Bcc address field below.

Below that, you should set the Return-path address. This is the email address the form entries will be sent from.

In order to ensure that you receive the form entries and they're not marked as spam or blocked by your web host, you should use different email address for the Return-path address, and the Email to address. Both email addresses should use the same domain your blog uses.
For example, if your blog is on www.example.com, you could enter yourname@example.com in the Email to field, and no-reply@example.com in the Return-path address.
Next you'll want to check off the Enable when web host requires "Mail From" strictly tied to site option. It's recommended, but not checked off by default. This should enable you to reply to the user by hitting "reply" to the notification email, even though the email will be sent using the address in the Return-path address field.

Advanced Features
You can change the form fields or add new fields by clicking on the Fields tab in Plugins » FS Contact Form.
Under Field Settings, click the Add New Field button on the right.

Now you can type in your field label and select the type of field.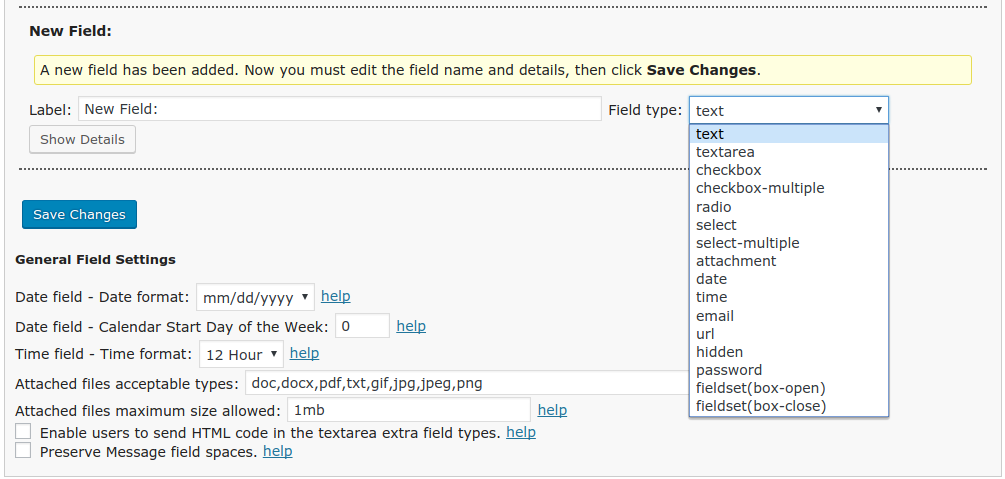 If you choose a field that needs more information, like a multiple choice field, you can click the Show Details button to enter the choices in the Select options box.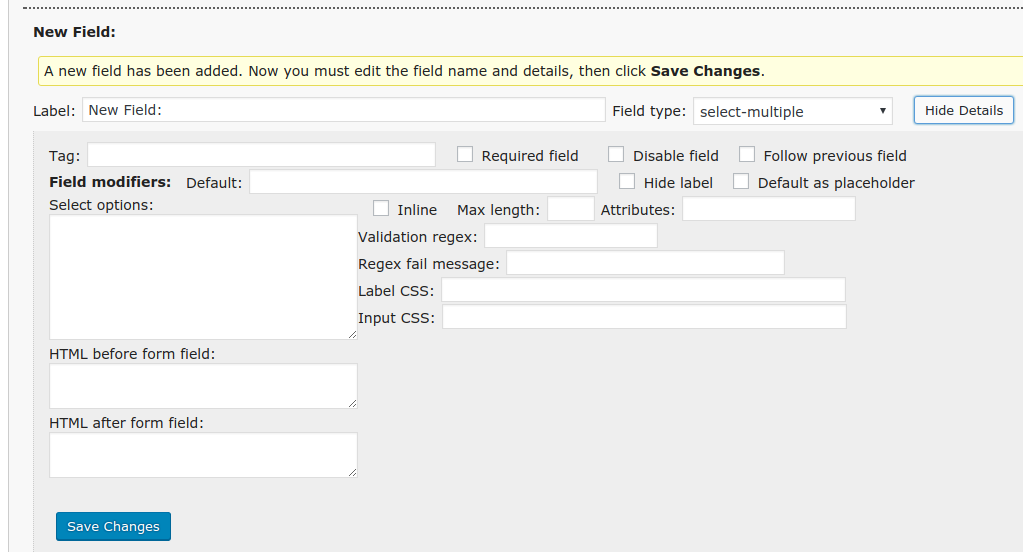 Under the Security tab, you can choose from several options for securing your contact form to prevent spam.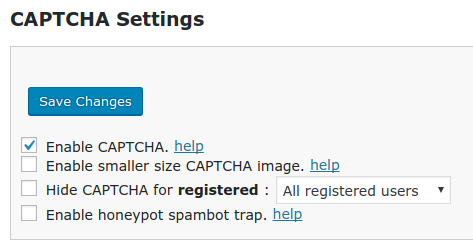 Click on the Advanced tab to change the confirmation settings or setup a redirect instead.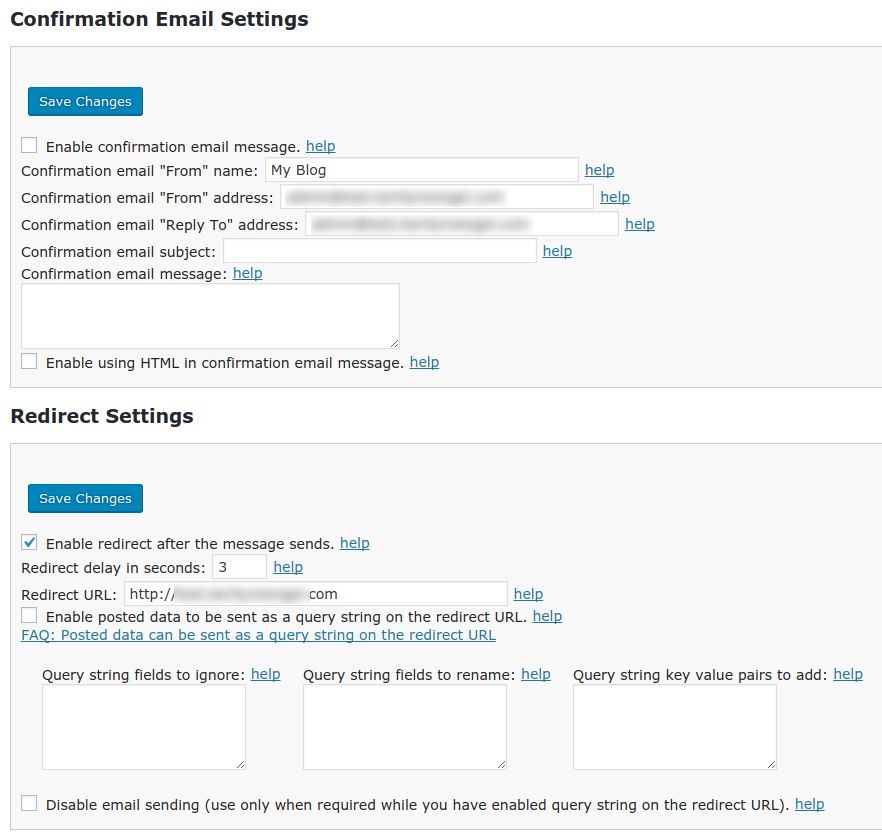 There are also options to let users schedule a meeting or appointment, or create a newsletter signup form, but they require some advanced coding skills to set up.
Documentation and Support Options
Documentation for the Fast Secure Contact Form plugin is available on the developer's website. There are several FAQs and tutorials that go over most of the features, plus tips on troubleshooting the most common errors.
If you need support, you can post in the WordPress.org support forums. The developer is fairly active there and most threads are responded to and resolved quickly.
A donation is required in order to open a private support ticket and get one-on-one help via email.
Our Verdict
Fast Secure Contact Form is a plugin intended for developers and more technical users — not for beginners.
If you aren't already very familiar with the technical details of how online forms work, you may find the interface difficult to understand. The settings also require you to understand and write HTML for a few of the settings.
The documentation is also full of technical details and jargon, and may not be helpful for non-coders.
If you're a beginner or just don't want to bother with technical details, you should look for a more user-friendly WordPress form plugin such as WPForms. WPForms is designed to be as easy to use as possible, even if you're a complete beginner to WordPress.
For developers who are looking for a plugin to implement forms that you can easily customize with hands-on coding, Fast Secure Contact Form may be a good choice.
We give Fast Secure Contact Form 3 out of 5 stars. Here is the breakdown of our review scores:
Get Fast Secure Contact Form Now »
If you liked this article, then please consider following us on Twitter and Facebook. If you have any questions, please let us know by leaving a comment below.