Justhost is one of the most affordable web hosting service providers. They offer cheap hosting services with a great set of features and tools. In this justhost review we will take a detailed look at the services and features offered by the company.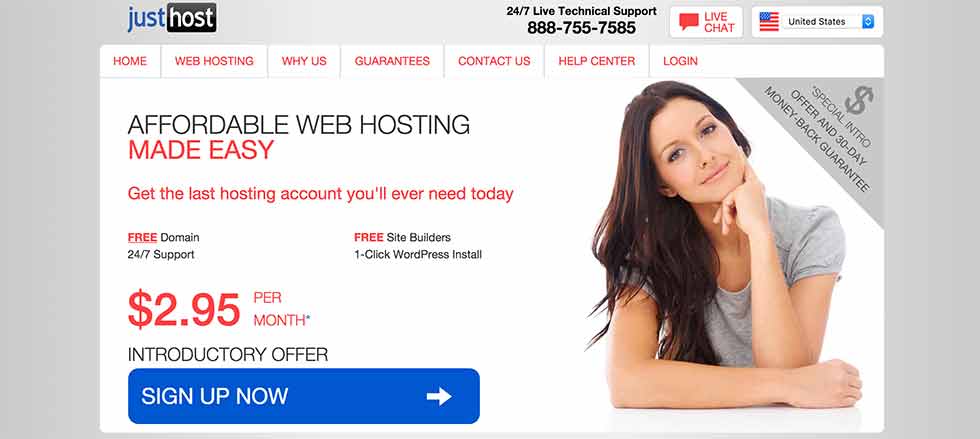 About JustHost
Justhost was founded by Brooke Bryan and Nick Baker in 2008. The company grew steadily and within an year they crossed the 100,000 customers.
In 2010, justhost was acquired by Endurance International Group. It maintained and operates with its original brand name after the acquisition.
The company focused on offering incredibly competitive pricing to attract customers looking for cheap web hosting services. It had great success in achieving this goal, it is now one of the most popular affordable web hosting service in the market.
Hosting Plans
Justhost is well known for their shared hosting plans. Company's main focus is on offering feature rich shared hosting at incredible prices. However, most users would want to know what happens when their website outgrows the shared hosting plans?
JustHost's basic hosting plan is divided into three different levels each with the capability to handle more traffic. Each plan offers an upgrade on features allowing customers to do more within the limits of their budget.
Apart from that, the company also offers VPS and Dedicated hosting plans. Customers can easily switch to those plans for even more scalability.
Pricing
Shared hosting industry is highly competitive. JustHost focuses on offering low cost hosting solutions for startups, blogs, and small business websites. Their pricing is quite low placing them on top of the cheap web hosting services.
Shared Hosting – Starting from $2.95/mo
VPS Hosting – Starting from $14.99/mo
Dedicated Hosting – $74.99/mo
I am very pleased with the uptime of my website, and them giving away unlimited virtually everything for a measly £2.75 per month. I think that's a great deal! My only grudge is you have to pay for anything extra, but most of the things are pretty reasonably priced, and affordable. I have sent a few tickets and all of them have been resolved quickly, and the staff seem to be friendly. I have no grudges about the support team.
Features
The first things that worries customers when signing up for a low cost hosting is features. Let's take a look at the features offered by JustHost.
Unlimited Diskspace
Unlimited Bandwidth
Unlimited Domains
FTP/SFTP SSH access
Email Accounts
1-Click Installers for WordPress and other open source web apps
Free Domain Name
Unlimited Email Accounts
POP3/IMAP support
PHP5, Ruby on Rails, Perl, Python
$100 Google Adwords Coupon
Latest cPanel Dashboard
Ease of Use
Ease of use is an important factor to consider when choosing a web hosting service. A good user experience can make things a lot easier for users. Let's see how JustHost makes it easier for customers to manage their hosting account and websites.
User friendly cPanel Dashboard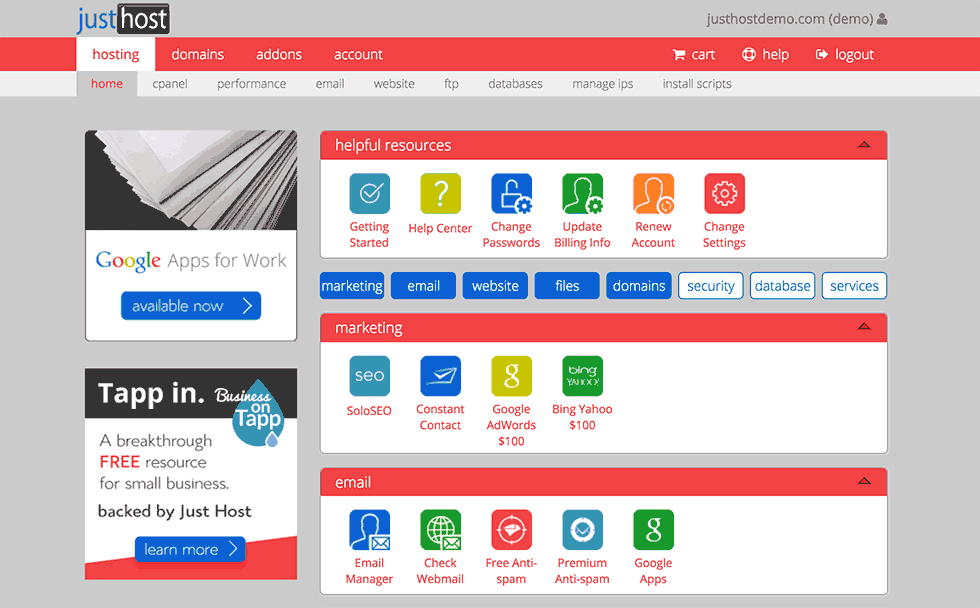 All hosting plans on JustHost come with the industry standard cPanel dashboard. cPanel is a control panel that allows users to manage and use different features offered by their hosting company from a web based interface. JustHost offers a customized version of cPanel, that is familiar and well known for its ease of use.
1-Click Installers and Easy Setup
Setting up an account and then launching a website is quite simple with JustHost. Your domain name is setup instantly, they also offer a free domain name with each of their plans. After signing up for the service you can simply run 1-click installer for your favorite open source CMS like WordPress, Joomla, Drupal, etc.
Documentation & Help
JustHost provides easy access to detailed documentation on using every feature offered with their hosting plans. Users can easily access the documentation from anywhere in their hosting dashboard. There is also live chat and phone support option available at all times. All these options are quite reassuring for a beginner user.
Customer Service
JustHost provides services to thousands of customers from all over the world. Dealing with large number of customers needs a team of highly trained professionals. User's interactions with the customer representatives greatly influence a company's reputation and brand image.
I have recommended JustHost to friends and colleagues as a great low-cost web hosting service. I set up my site with few problems. I was given prompt, correct support when I needed help.
The company spends a great deal of their resources on training and managing the customer support staff.
Existing and potential customers all have access to their 24/7 live chat support. Users can also talk to a customer representative on phone. Apart from that there is email based support system for non-urgent support requests.
Our Score
Considering the prices, plans, and features offered by JustHost, we are quite impressed. It is an excellent choice for a starter website with low prices and all the features that users would need to manage their websites. We would give JustHost 4 out of 5 stars.