HostGator is one of the most popular hosting companies on the web. It particularly rocks the shared hosting space with affordable starter plans and quick easy setup. HostGator hosts millions of domain names from all over the world, making them one of the largest shared hosting service provider in the world.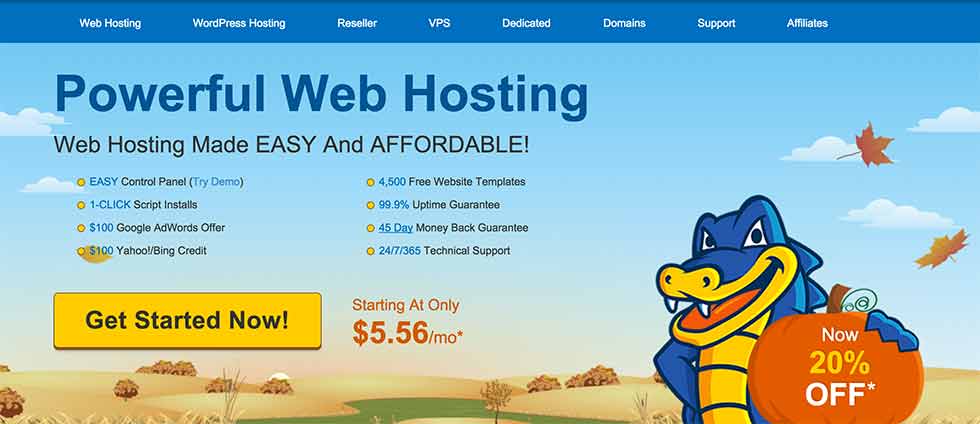 About Hostgator
Hostgator was founded in 2002 by Brent Oxley who was a student at Florida Atlantic University. HostGator grew exponentially in the next couple of years.
In 2007, just five years after the company was founded, HostGator moved to a 20,000 square foot office building in Houston, Texas. The company kept growing at phenomenal rates and opened offices in Austin, Texas and India.
HostGator was acquired by Endurance International Group in 2012 for $225 million USD. Endurance International Group also bought other hosting companies, including Bluehost (See our review of BlueHost hosting service). Like most other acquisitions of EIG, HostGator continued operations under its own brand name.
Hosting Plans
HostGator offers a diverse range of hosting plans including their immensely popular shared hosting packages.
Their shared hosting plan has three different levels. The basic starter package starts from $5.56 per month and has a single domain limit. The next package in shared plan starts from $7.96 per month and includes unlimited domains.
Apart from their shared hosting plans, Hostgator also offers managed WordPress cloud hosting, VPS, and dedicated servers.
This range of plans, packages, and pricing options provides users plenty of choices and room for growth.
Pricing
Web hosting industry is fiercely competitive and this ultimately benefits the end users. HostGator offers all their hosting plans at very competitive rates.
Shared Hosting – Starting from $5.56 per month.
Managed WordPress Hosting – Starting from $7.46 per month.
Virtual Private Server – Starting from $11.97 per month.
Dedicated Hosting – Starting from $105 per month.
Each hosting plan has different levels and users can upgrade if their site grows beyond the allocated CPU resources.
Features
HostGator offers a comprehensive set of features even with their starter plans. It allows users to run a wide range of web applications on their websites and manage them easily.
Unlimited bandwidth
Unlimited Diskspace
Unlimited Databases
Shell SFTP/FTP Access
Latest cPanel
phpMyAdmin
1-Click Installer for popular web apps including WordPress
Unlimited Email Accounts
Unlimited Email Storage
POP3/IMAP Suppport
SpamAssassin Email Filtering
These are the most commonly requested features, and HostGator has covered all of them. In fact, there are a lot more features, you can see a complete list on HostGator website.
Ease of Use
HostGator is currently home to millions of website from all over the world. It offers a robust platform that is extremely easy to use for beginners and fully matured for advanced users.
the control panel you're provide with is so simple that if you don't know anything about the web, they gator will help you, literally.
cPanel
All HostGator plans include a polished version of the latest cPanel. This dashboard provides users access to all the features offered by their hosting plan. They can manage their websites from a very graphical and easy to use interface.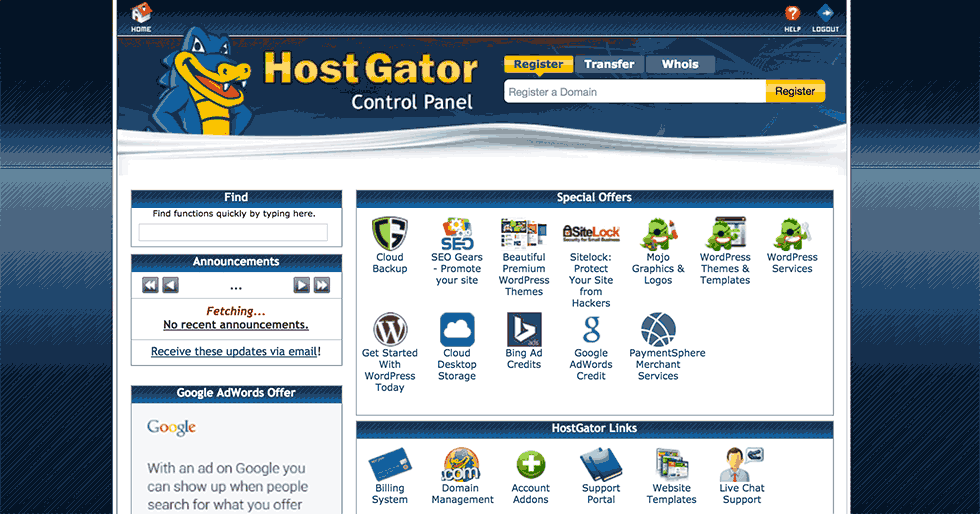 1-Click Installers
Most users want to set up their websites as quickly as possible. HostGator makes it incredibly simple with their 1-Click installers for the most popular content management systems and other web apps. This includes WordPress which users can install with just a couple of clicks.
Web Based Hosting Management Tools
Most beginner users don't know how to use SSH or SFTP to access their files. They don't know how to create new databases or manage existing databases from command line. HostGator's cPanel allows users to do all that using web based tools. This makes life a lot easier for people who are creating websites for the first time.
Help and Support
Help is easily available throughout the hosting environment. Users can easily launch live chat from any screen to ask questions. There is comprehensive and very detailed documentation available for almost any topic.
Customer Service
Dealing with millions of websites means that at any given time there is a large number of customers who need assistance. Over the years HostGator has perfected a system that works like an incredible machine.
They have their own training programs for their support staff. Support staff consists of highly trained and skilled professionals who know their technology.
I have contacted them on close to six times and in all the occasions they have lived up to my expectations.
Whether the customer is a development agency or a beginner working on a small blog. They know how to explain things to users. Most beginners actually get to learn about web technologies while talking to support staff.
There are different support options available to all HostGator customers. Users can choose an option based on severity of their issue or their skill level.
24/7 Live chat support
Email Ticketing System
Documentation, tutorials, articles
Discussion forums
Video Tutorials
Live Phone Support
Our Score
HostGator offers comprehensive web hosting services at low prices. This makes it possible for millions of people to be able to get started with their own online ventures. Serving millions of customers alone is an incredible achievement in itself. Keeping them satisfied for years in a highly competitive industry is impossible without superior technology, training, manpower, and dedication.
We feel that HostGator is an excellent service provider that excels on almost every aspect of web hosting imaginable. We give it 5/5 stars.