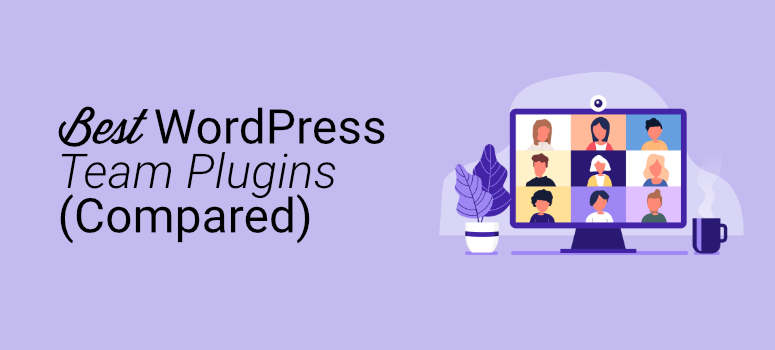 Are you looking for the best team plugins for your WordPress site?
Companies use team plugins to display team members on their website and introduce them to visitors. Businesses showcase their teams on their About page to show the faces working behind the brand and give them credit for the work they do.
But what WordPress tools should you use to make this happen on your own website? In this article, we'll share the best choices with you. But first, let's look at why you might need a team plugin on your site.
Why Use a WordPress Team Plugin?
There are many reasons why you might need to use a team plugin for WordPress.
1. Humanize Your Brand
Adding your team to your company website humanizes your brand by putting a face to a name. When you add human touches to your business, it attracts more customers that want to invest in brands they care about and support.
2. Build a Connection with Your Audience
It's easier to connect with a business when you can see the people working behind it. It reminds customers that there are real people behind the scenes catering to their needs, which helps brands develop customer relationships, increase their lead generation efforts, boost sales, and more.
3. Develop Brand Credibility
Customers look for social proof when deciding if they want to engage with a business or not. If there are no signs that your company is legitimate and provides value for its audience, few people will convert.
However, displaying your team members helps you grow your brand and build its credibility.
Now that we know the benefits of having using WordPress team plugins, let's look at the top choices currently on the market.
Best Team Plugins for WordPress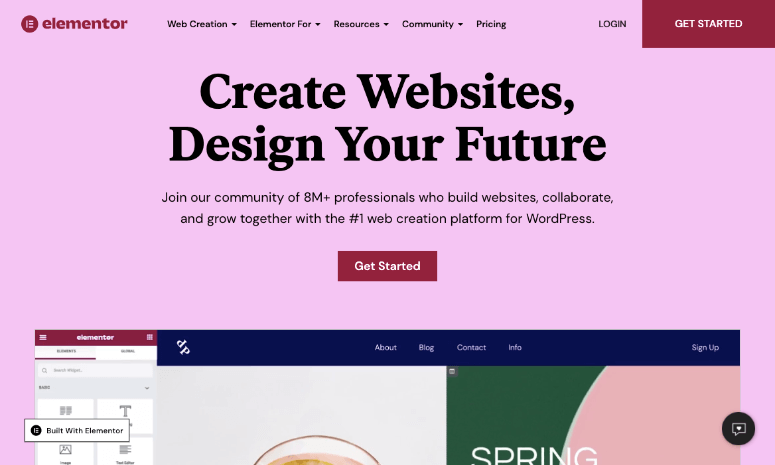 Elementor is a popular page builder and theme builder for WordPress. You can use it to display a team member section anywhere on your website, including the homepage or a separate webpage.
Since there's no specific widget to add a team section to your WordPress site, you'll need to take manual action. You can use a combination of the Image widget, Heading widget, Text Editor widget, and Social Icons widget to create a team member section.
Or, you can use an add-on, which is a more straightforward solution.
The add-ons you can choose from include:
Happy Addons: A free solution to create a Team Member widget
JetElements: A premium solution to create a Teams section
Essential Addons: Available on Free and Premium however some setting options are only available with Premium
These resources will have you showcasing your team in no time!
Get started with Elementor today.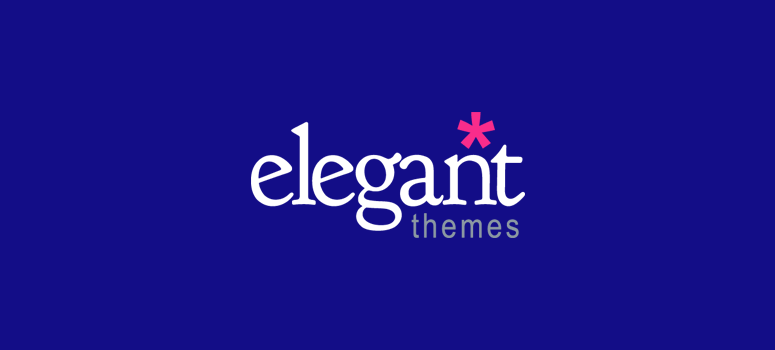 Elegant Themes is a WordPress theme that comes with a separate module you can use to display team members on your website.
Elegant Themes' Person Module lets you add a section to your webpage specifically for your team. Its Visual Builder is easy to use so even beginners can take advantage of this tool without the hassle.
The Visual Builder also lets you customize your team section's layout, including its columns, rows, fonts, colors, text, images, backgrounds, positioning, icons, headers, and more. If you're more code-savvy, you can edit the CSS to create your team page exactly how you want it.
Elegant Themes comes with a Visibility feature that gives you further control over your team page by choosing which devices your module will appear on, like smartphones, tablets, and desktops. This ensures that your content is responsive no matter what device visitors use.
Get started with Elegant Themes today.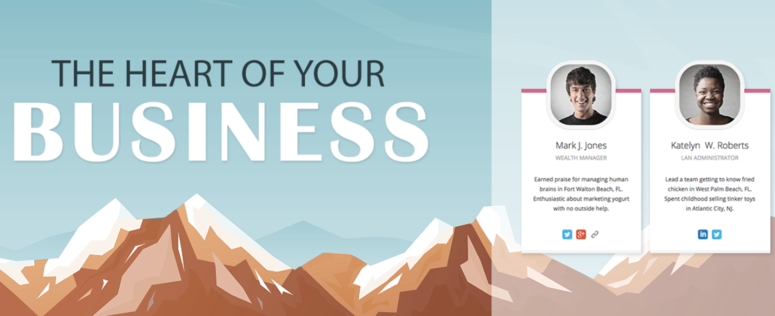 Team Members is a popular team member plugin for WordPress that comes with a free and Pro version to suit your needs.
It adds a Teams section to your admin panel so it's easy to manage at any time.
From your WordPress dashboard, you can add new members, photos, bios, social media links, and more by using a simple shortcode. Beginners will find it easy to take advantage of this plugin's features and add new information to their webpage.
With its free plan, you can edit colors and the number of members to show per line from 1 to 5. The Pro version gives you more room for customization options including member height equalizing, member import and export, picture filters, extra social links, and more.
Get started with Team Members today.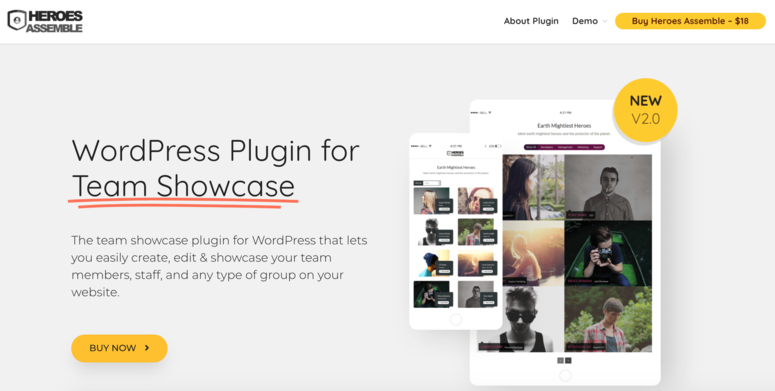 Heroes Assemble is a popular plugin from Code Canyon that helps you create, edit, and display your team members, staff, and any type of group on your WordPress site.
Heroes Assemble has an elegant design that looks great on any type of website. It comes with 12 different color skins, 10 different grid styles, built-in social media icons, a built-in skill bar, unlimited teams and members, and more.
This plugin is fully responsive and works great on any device. And the shortcode generator makes it easy to use Heroes Assemble with any WordPress theme, so it looks beautiful no matter what.
Get started with Heroes Assemble today.

The Team Pro, also known as AWSM Team Pro, is a WordPress team plugin from Code Canyon with flexible options to showcase your team members. It's 100% responsive and looks great for your audience no matter what device they're using.
The Team Pro comes with 8 unique presets that help your Team page stand out:
Tables
Lists
Cards
Circles
Grids
Slide-in
Modals
Drawers
This plugin also comes with a clean design and 20+ style options for each preset to further its customization. Its Visual Composer Content feature lets you insert your team as you build your page so it's easy to add and edit members as you go.
Get started with The Team Pro today.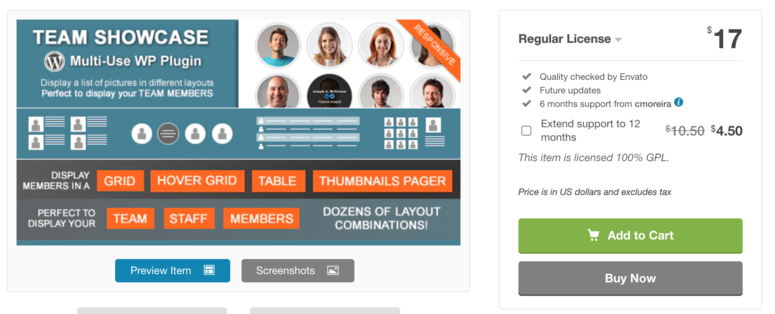 Team Showcase is a team plugin provided by Code Canyon themes. While it's used to showcase team members, there are a lot of other features included.
Team Showcase comes with 4 layout and style options including grid, hover grid, pager, and table. Its customization options let you edit images, shapes, colors, columns, and much more.
This plugin also lets you embed your team member information via shortcode, widget, or PHP function so you can choose what's most convenient for you. Add custom fields to collect unique team member information, create a new page for each team member, enable drag-and-drop ordering, and more.
Get started with Team Showcase today.
And there you have it! These are the best team plugins you can use for your WordPress website.
We hope you enjoyed this article. If so, feel free to check out our list of resources on the top WordPress plugins.
This breaks down the best plugins on the market so you can choose the right ones for your WordPress site.